Respawn LAN 15 was by far the most successful Respawn LAN we've ever had!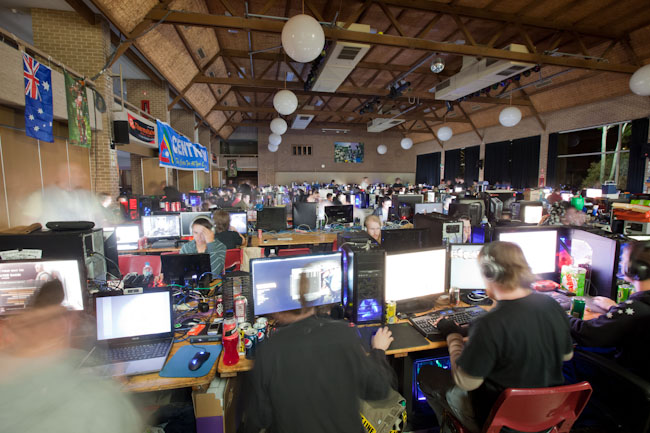 Some things worthy of note:
This was the biggest Respawn LAN we've ever run...
Union hall has now seen 10 consecutive years of LAN events since Shafted 7 held in January 2000.
This was the first Respawn LAN where all network switches were uplinked at 2Gbit/sec minimum.
We destroyed a Power Mac G4 (video coming!)
We had the largest presence from interstate gamers yet!
The mess left by many of the players was perhaps the worst we've ever had to clean up... we provide ample bins, so what's going on here??
Competition winners and prizes are as follows:

GRID:
1st: Noway, who took away a Creative Fatal1ty gaming headset thanks to CentreCom
2nd: ospreychocolates
Warcraft III:

1st: Genoxell who won $150 cash
2nd: Plasia who won $50 cash
Half-life 2 Deathmatch:

1st: Ultimate Sacrifice
Call of Duty 4 Gungame:

1st: type /quit
(yeah, that's his name)
Flatout 2:
1st: Stompy: Creative Aspire 5.1 speakers thanks to CentreCom
Counter-Strike Source GunGame:

1st: rem, taking home a ThermalTake 2.5" HDD case
2nd: cougers, winning a ThermalTake DuoORB CPU cooler thanks to TT
Counter-Strike Source 5v5:

1st: Whipped, winning $500 cash
2nd: Passion, winning $250 cash
Hawx:
1st: Fightmasters
Team Fortress 2 Team:

1st: RAPE, who won $600 cash
2nd: Allstar Buttnuggets, winning $300 cash
(side note: what is with these team names??)
Call of Duty 4:

1st: Team7, winning $500 cash
2nd: DUI, winning $250 cash
Quake III Arena instagib:

1st: 3 NYA, winning $50 cash
2nd: SACrifice, winning $25 cash
Photos are up: see the gallery!Many thanks
go to those who remained behind after the event to help clean up, especially the guys from SGL and SOGC who had a trip back to Sydney ahead of them. Also, a big thanks to CouchWarriors for rocking up with their gaming consoles and running a competition for us - we look forward to working with CW on future events. Shouts also go to our sponsors, Centre Com and ThermalTake for making this event possible.
Plans are already underway for our 16th event to be held on the second weekend of April. We look forward to seeing you there!
You can also check us out on the following sites:
Facebook:
http://facebook.com/RespawnLAN
Twitter:
http://twitter.com/RespawnLAN
IRC:
Server irc.oz.org, channel #respawn