Respawn LAN v18 winners!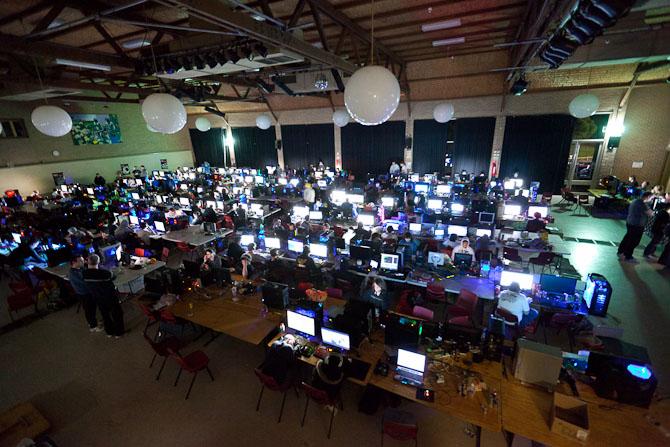 Thanks for everyone who helped stick around for packup which was longer than usual. Those who enjoy our company should stick around next time to help us - remember, many hands make light work!
A big thanks to our sponsors - we're very greaeful for the continued support they provide. A big shout to Victoria University, SteelSeries, Fractal Designs, Atomic MPC, Tt eSports, WildWire, The Hub and EMC.
We should also make a special note about the network we ran for the last event. Thanks to a little help from Cisco Systems, we were able to deliver what has been the
FASTEST LAN PARTY
we've ever run, with
10 Gigabit Ethernet (10GbE) running to most tables
. The equipment we used was based on a Cisco Nexus 5020 switch, using a mixture of 2148 and 2248 series Fabric Extenders and Cisco 3750E and 3750G switches to deliver the fastest performing network we've ever had the pleasure of using.
Door Prizes:
Victoria University Short Course
: Drummer Boy Ben
Fractal Designs Array R2 case:
Team Fortress 2:

Tunnel Snakes, each member taking home a
Tt eSports Black gaming mouse.COD4:

1st place: Fusion eSports - SteelSeries mouse
2nd place: Zenith - TT eSports mouse pads
CSS
:
1st place: Okay, here's the deal. We'd
REALLY
like to tell people who won but since the team decided to have some fun by selecting a name unsuitable for publication in this news post, we're not going to name them - but we will say that they each won
a mouse from SteelSeries.
2nd place: Sound Effects, other than selecting a name which was a bit more G-rated, won ...
Flatout 2

This is perhaps one of the most anticipated competitions from the admin team!
DemonicHorse took the $150 cash prize thanks to The Hub LAN cafe.Grid
:
1st place: Dead_Man
2nd place: Cheb (who won the Tt eSports keyboard as Dead_Man was running the competition).
Poker
:
Razza, Peter and Goran won 1st, 2nd and 3rd place.
Female Comp winners:
CS:S
: Peach
Flatout 2
: Om Nom Nom
Colouring Competition
: Tank
See you guys next time... we'll be announcing our
Christmas Extravaganza shortly
...