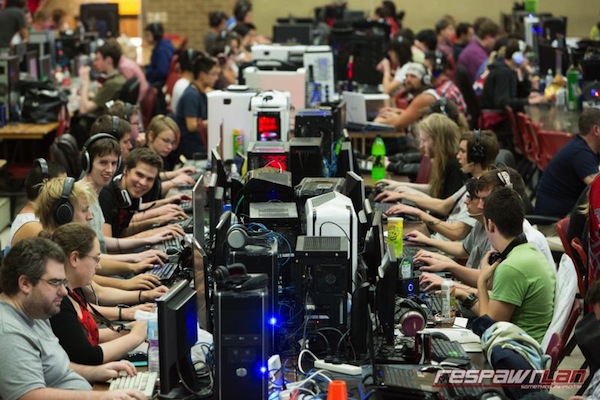 Hey guys,
Just a wrap-up of our 26th event and to say thanks to everyone who helped out to make it a great success.
Photos can be found
at the usual location
or on our
Facebook page
.
We'd like to thank Anyware Computer Accessories, Fractal Designs (for their awesome cases), Tt eSports for not only their products but with arranging the Starcraft II tournament for us (and edd1e for running it), That_Commander who continues to bring that beige PC and CRT screens, Valve for their support with our Steam content server, Plantronics for those awesome headsets we gave away, priorax for a great TF2 competition, Jeffy for the LOL tournament, Ultimate Sacrifice for not sweeping the deck with winning all the competitions and running our DOTA2 tournament for once.
And everyone in the CS:GO comp, thanks for your patience. It was a last minute affair for me to run the comp and it's been many years since I've personally done it. I had fun. We'll fix up the scheduling for our next event.
TF2
: Some team called "If sando is no longer an admin, is Zardoz now the lousy admin?" won the competition and took home $300 cash.
Grid:
M_Harriskat, Plantronics headset
HL2DM:
Ultimate Sacrifice, Plantronics Headset
Unreal Tournament 2004
: Swi7chblade, TT Black element mouse
Grid
: Micah, TT Black element mouse
LOL
: Justice Beavers, $250 cash split between team members cheshz00, Plottel LOL wut slice, mezje and Pyramed
RUNNERS UP: Yurick's team: Yurick, Ogahr, Agnostos, Albusursus, SpicyTuna
DS Comp
: Tofuboi, Plantronics Headset
Door Prizes:
ThermalTake Laptop Cooler: Duallite
AVerMedia Game Capture HD card: Terrybyte
Fractal Designs Core 3000 PC case: Deathhammer
MS Paint
: dani (:"
Minecraft
: I_am_ghost
Respawn LAN will return to dishing out the awesome on
April 6th-7th 2013
with Respawn LAN twenty-seven.