'sup Amigos!
Regos are open!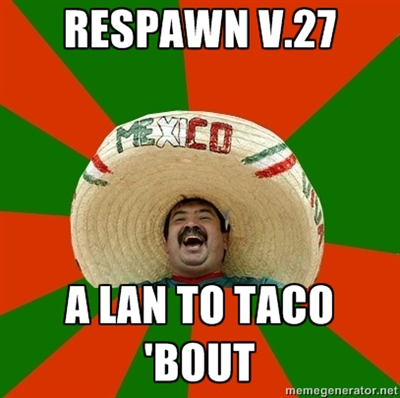 RESPAWN LAN 27
A LAN TO TACO 'BOUT
April 6th-7th 2013

Prize details are still being confirmed with our partners but we can tell you that AVANT eSports have come onboard with some Plantronics Gamecon headsets, Patriot memory kits, USB3 storage keys and more! We'd also like to thank our long term partners, Tt eSports and Anyware Computer Accessories for coming back onboard with us this event.
Keep an eye out on our Facebook page and website for further announcements.
We'll be bringing you some awesome competitions and games for ALL of the following:
* Counter-Strike: Global Offensive 5v5
* DOTA 2 5v5
* League of Legends 5v5
* Team Fortress 2 6v6
* Starcraft II 1v1 Heart Of The Swarm
* Call of Duty 4 - note this will be a buy-in competition ($15) with a minimum of 10 teams required to execute to offer a $500 1st place cash prize and $250 for 2nd place
* Counter-Strike Source GunGame
* FlatOut 2
* Minecraft
* MS Paint
* and MORE!
We'll be releasing a schedule shortly with a final list of competitions.